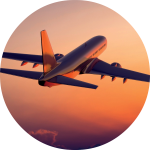 The following travel guidelines apply for students traveling to Ottawa for an Institute for Liberal Studies (ILS) event that includes travel reimbursement, such as a Socratic Seminar. If the cost of your travel is less than that noted below, you may book your travel and submit receipts for reimbursement without prior approval. If your travel expenses will exceed this amount, please request approval from us BEFORE booking your tickets. Please note that the ILS will NOT reimburse for expenses such as taxi or ride-sharing fares, local bus fares, or airport parking. We will make hotel arrangements on your behalf. Please note that you may be required to provide a credit card for a security deposit upon check-in. Students living in Ottawa and not staying at the hotel may submit parking expenses of up to $20/day for reimbursement.
Travelling from within the Toronto to Montreal Corridor:
Up to $150.
Travelling from elsewhere in ON or QC:
Up to $250.
Travelling from NB, NL, NS, or PE:
Up to $400.
Travelling from AB, MB, or SK:
Up to $600.
Travelling from BC:
Up to $700.
Travelling from outside Canada:
Up to $800.