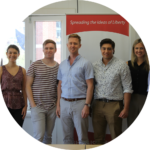 The ILS Summer Fellowship provides students with a paid, eight-week internship  working with non-profit organizations in areas like public policy analysis, public interest litigation, or education. In addition to their work placement, Summer Fellows take part in a three-day opening workshop in Ottawa, weekly webinars, and attend a Freedom Week seminar. In 2016 students were placed with the Montreal Economic Institute, the Canadian Constitution Foundation, the Atlantic Institute for Market Studies, the Macdonald-Laurier Institute, the Institute for Liberal Studies.
Summer Fellows will be required to attend a workshop in Ottawa from June 14-16 and placements will run from June 19 until August 18.
Fellows will be provided with a $3,000 scholarship paid in four installments and are responsible for covering their own moving costs (if applicable), as well as traveling to Freedom Week. No further funding will be made available to assist with moving or travel expenses.
We will conduct interviews by phone and in-person in March, and successful applicants will receive offers of placement by April 15, 2017. Please note that previous participants in the Summer Fellowship program are not eligible to participate again. However, students who applied last year but were not accepted are encouraged to apply again.
Submissions are now closed for the Summer Fellowship for 2017.