About Us
Mark Bufton
Executive Director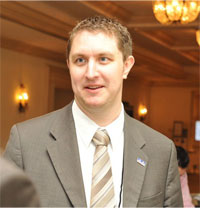 Matt served on the Institute's board of directors from 2006-2010. In April 2010 he assumed the position of Executive Director with responsibility for the day-to-day management of the ILS.
A 2002 graduate from the University of Windsor's Odette School of Business he worked for a private sector insurance provider in marketing and project management before returning to school for graduate studies in 2008.
Matt studied political science at the University of Windsor and Public Policy at the University of Michigan. He was the recipient of a Humane Studies Fellowship in 2008/09 and 2009/10 and participated in the Atlas Economic Research Foundation's MBA for Think Tank Management in August 2008.
Our People